Client Story Guardian Automotive
Newly established Guardian Automotive wanted to create awareness of the company's high quality products and value added services. To do so effectively, the company needed to define and embed its positioning and make a significant impact during Automechanika, the world's leading trade fair for the automotive aftermarket.

EMG worked closely with the Guardian Automotive team to create a communications strategy and plan, before holding a message workshop to formulate Guardian Automotive's value proposition for its various stakeholders. Once a framework was agreed, it was rolled out to the wider Guardian Automotive team via Town hall meetings, posters and short 'Q&A postcards' and was embraced internally.
The next step was the market introduction at Automechanika. Customers were contacted directly, invitations to the show were sent together with a customer newsletter providing background on the Guardian Automotive team and vision. This was supported by the development of a corporate website and brochure – all in English, German, French, Italian and Spanish - as well as an e-shop and catalogue to show the full range of more than 220.000 glass parts for cars and trucks. Other sales tools included customer letters, quality certificates, mobile displays and promotional items such as bags and posters.
All these communication elements came together at Automechanika. EMG worked closely with the Guardian Automotive team to design and build the stand and organised all support services including a daily happy hour event. EMG drove awareness before the event with an active media relations programme and secured interviews at the show with more than 15 key media.
As a result, Guardian Automotive made a strong impact at this important event generating new business opportunities.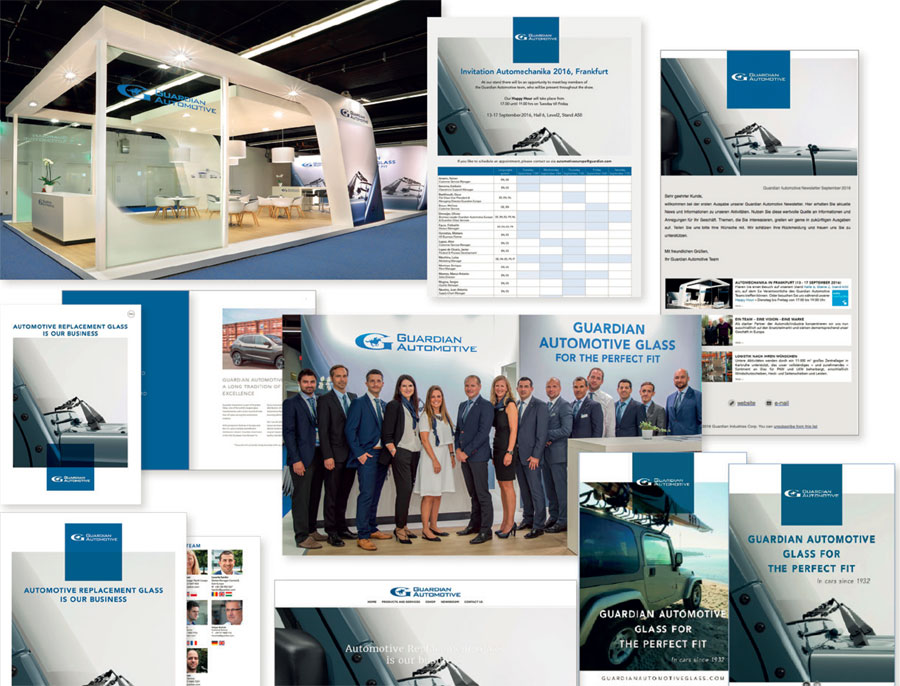 Guardian Automotive
Guardian Automotive is a leading European producer of premium quality automotive replacement glass. The company combines into a single business the various Automotive activities of Guardian Glass,
a world-leading manufacturer and innovator in glass and glass coating technologies. These include the company's dedicated European manufacturing facilities and
state-of-the-art warehousing and distribution services, which were previously run for many years as separate entities.