Activity by topic
Mailing list
Add me to your mailing list:
20 August 2010
Trade press use of social media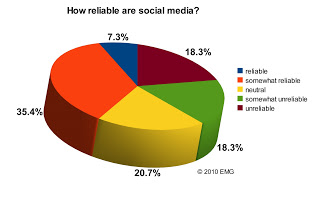 Today, social media are dominating discussions about communication and internet developments. What started as bulletin boards and people creating their own personal websites has now turned into a global communications phenomenon - with Facebook overtaking Google as the number 1 site in America.The resultant impact on mass media is all too apparent, with changes in readership and viewing habits leading to new business models and new strategies for media owners. So what about the impact in the B2B arena? This is not so clear although many trade publications are embracing online and digital channels.
Are traditional print media suffering as their readers spend more time online? Are the current economic situation and the large shift in readers' habits forcing publications to rethink their business model?

EMG recently carried out research to specifically understand the increasing role of social media in trade publishing. We contacted trade media editors and invited them to take part in our Social Media Survey. Respondents of this survey work across a wide range of publications in B2B - with about 75% covering Plastics, Food, Electrical & Electronics, and Automotive, and the remaining 25% representing a range of other industries.

Social media impact on B2B
The results give an interesting insight into the importance of social media for editors and journalists, and have provided us with a greater insight into the extent to which social media are impacting the B2B sector, enabling our team to help our clients understand the impact on their own communications programmes more clearly.

Whilst almost 80% of respondents expect their use of social media to grow, and around 50% now consider social media to be an established part of the traditional media, far smaller proportions regard social media sources as reliable and use social media channels to publish stories. However, in the B2B space, they expect social media to grow in importance over the coming years. Editors and journalists surveyed agreed that today social media are a valuable way to network, get news and distribute stories more rapidly around the world. The EMG research concludes that social media cannot yet be considered part of traditional media, but it has become an important tool for professionals in a changing media landscape - and its use will grow further in the years to come.

This and other EMG white papers can be accessed from the EMG website.