Activity by topic
Mailing list
Add me to your mailing list:
6 June 2013
Pre-K 2013 - Day 2
The first day of this year's Pre-K flew by! One highlight was the discussion at dinner between editors and industry leaders. In addition to discussing the key messages from the conferences, everyone was able to get to know each other, to look at future story opportunities, and to look at the latest trends in the industry.
We are now half way through day two and yesterday's energy continues to permeate the room. It will be a full day again for the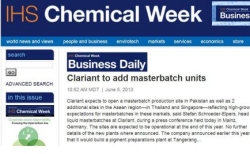 27 attending editors, with four conferences and one-to-one media interviews. Check back tomorrow for a wrap-up and impressions.