Activity by topic
Mailing list
Add me to your mailing list:
19 August 2013
EMG Commits Cash and Issues Global Challenge to Help Build a School
EMG is launching its Steps for Schools Campaign to get fit and raise money for Schools for Salone
Bergen op Zoom, August 19, 2013 – EMG, the leading international B2B communications agency specialized in industrial media relations programmes, today announced it's Step for Schools campaign. The team hopes to get fit, make their contribution count and encourage others to do the same. Steps for Schools is a one month charity-based fitness campaign designed to promote an active lifestyle and to raise money to support Schools For Salone, a non-profit organization dedicated to transforming lives by building schools in Sierra Leone. EMG's Steps for Schools campaign will raise money for the Gbumbeh Primary School.
Our fitness is their school's gain
Brigitta de Vries, Partner and Account Director, EMG says, "When you're getting fit, you need all the encouragement you can get. We believe that helping to build a much needed school provides the right motivation." She adds, "If we can motivate 500 people to join us and sign up to the programme, the Schools for Salone/Gbumbeh School project stands to gain 12.500 euros, made up from registration fees, which are passed on in full to the charity, and an EMG donation for every person who reaches their step target."
The idea:
EMG, located in the Netherlands, participated in a National Step campaign in 2009 as a team building activity. The employees were excited by their improved fitness from just walking more each day. They felt more energized, and had fun doing it. This inspired the Steps for Schools campaign. This time, they decided to expand their efforts and motivation by inviting others to join in and by choosing a charity to work with.
Schools for Salone and the Gbumbeh Primary School
Schools for Salone is a non-profit organization that partners with local villages in Sierra Leone, West Africa, to rebuild the schools devastated in the ten-year civil war that ended in 2002. Since 2005, Schools for Salone has built 15 schools, and 2 libraries. The Gbumbeh Primary School is one of the schools waiting to be built. It is located in the Selenga Chiefdom about 14 miles from Bo, the second largest city in Sierra Leone. The village has a population of about 1,000 people and children from two nearby villages also attend the school, which is a one room mud hut with a tin roof. The overcrowded classroom makes teaching and learning difficult.
"I visited Gbumbeh in July and was able to deliver the good news about the Steps for School campaign to Chief Swari Sandi. He was very pleased. This is such a poor village, the type that is often forgotten by large organizations. They so value education and are ready to help build the school as soon as we can raise the funds," says Cindy Nofziger, Executive Director, Schools for Salone. How Steps for Schools works
Participants register at www.emg-pr.com/s4s.
Campaign goal is to raise €12,500 - through 500 registrations and by each participant hitting the campaign step target of 230,000.
Registration is €15, and more is welcome - is a donation to Schools for Salone for the Gbumbeh Primary School (full €15 registration fee goes to Schools for Salone) and EMG will send each participant a step counter free of charge.
When participants reach the total steps, EMG will donate a further €10 to Schools for Salone.
The campaign begins Friday September 20th and runs until Sunday October 21st. During this time participants visit EMG's Steps for Schools website daily to enter their steps, monitor their progress and engage with others in the campaign to stay motivated and share fitness ideas.
Any physical activity counts – from gardening to swimming or just doing laundry! This can be entered on the website and the system will convert the activity into steps.
The daily target is 7500 steps, the campaign total over 31 days is 230,000 steps.
de Vries added, "We hope our campaign is the start of more awareness and more funds being raised for Schools for Salone. Additional donations will help to raise the total amount needed to complete the school. And I have to say, I'm looking forward to getting more active to improve my overall health."
About EMG
EMG is a leading international marketing communications & media relations consultancy with a strong industrial B2B focus. With a mission to deliver effective business communications for its clients primarily in the materials, building & construction, chemicals, packaging, technology, energy and life sciences markets, EMG has built its business on developing integrated marketing communications programmes for international organisations. EMG was founded in 1991, has offices in The Netherlands, China and Singapore, and is founding partner of the Eurocom Worldwide and EMG Asiacom networks. EMG provides international communications support to clients that include Belden, Borealis, DSM, GE, Moog and Avery Dennison.
In China specifically, EMG provides local PR and communications support to clients such as PPG, Clariant, Thermo Fisher, and Orange Business Services.
For more information, please visit www.emg-pr.com and www.emgchina.com.
Contact for further information:
Paulien Boumans
EMG
Tel: +31 1 64 31 70 15
E-mail: pboumans@emg-pr.com
This press release and relevant photography can be downloaded from www.PressReleaseFinder.com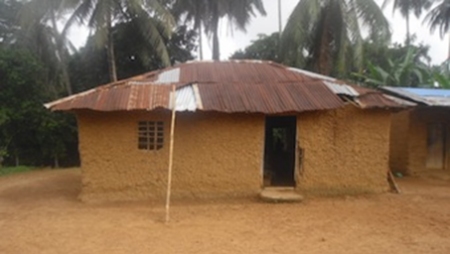 The Gbumbeh Primary School, Selenga Chiefdom, Sierra Leone, West Africa.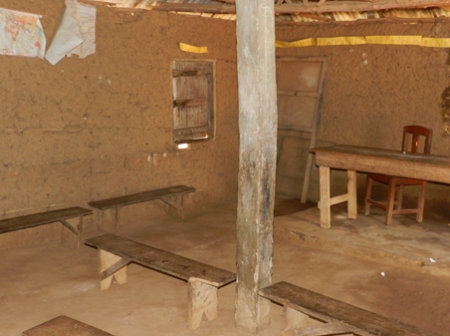 Inside the Gbumbeh Primary School.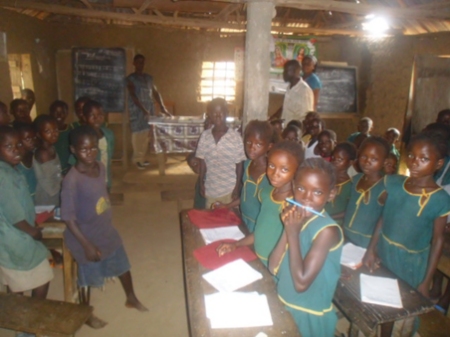 Teachers and children of all ages share the dark, cramped space. The overcrowded classroom makes teaching and learning difficult.