Servé Tonino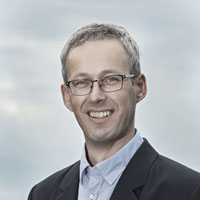 Servé Tonino is a former senior trade publishing editor from the plastics industry. The combination of his editorial background and technical knowledge translate into the creation of online solutions for our clients that support overall marketing communications efforts. Servé leads our online practice, providing specialist technical input and guidance across EMG's client portfolio and project managing specific client assignments. Servé is Dutch, and is fluent in English.


Tel +31 164 317 016
stonino@emg-pr.com
Recent Posts
The chances are that if you're a marketing director and reading this story, you're taking a quick break from a CRM implementation meeting! Almost half of the people we spoke with during our customer survey mentioned their company was striving for closer alignment of marketing and sales to drive more value and rolling out either a CRM or an ERP system.





Flying start for stress-free exhibitor meetings

Fan or not, meetings are a fundamental part of modern business culture. On average 11 million are held EACH DAY in the US alone! Certainly in the B2B world, relationship building wouldn't be the same without them.





To get to the point: you better keep it short and entertaining if you want to engage people. If your first paragraph goes on about 'world leading' or sets the stage for a lengthy essay, then you may want to reconsider the BLUF principle: Bottom Line Up Front.





Last month we reached the milestone of 300,000 media articles monitored. Our numbering dates back from the year 2000, when we still used scissors and glue to capture our client's media activity. It took us over nine years to reach the first milestone of 100,000 and another seven years to triple that.





Media monitoring and reporting The EMG Way

To provide clients with a comprehensive overview of press coverage and, if required, insight into competitive and other relevant information, EMG has developed a proprietary media monitoring and reporting service.





In such a (sports) news packed summer, it's hard to believe that the final of the European Championship Football was just over a week ago. Today we congratulated Anneke Wakkee with winning our contest.





Which do you prefer – to type text yourself or use copy/paste? When time is scarce most editors and other social media users probably prefer to copy/paste - especially if the headline is more than a few words and typos are easily made (think smartphones and tablets).





Dark Thinking about Dark Social

A few weeks ago I read an article about Dark Social. To some the buzz word for 2015 – or at least at the time of publishing.





Sneak preview of the new PressReleaseFinder

Later this month a completely revamped PressReleaseFinder - featuring a new look user interface and added functionality- will be launched to the general public. But we want to offer you the opportunity to have a sneak preview before the hordes come storming in.





If you want to promote your business online, you need a good story. Why? Because copy pushed out by companies (and PR agencies) is often produced in the mistaken belief that everyone wants to read their corporate message. At EMG we believe that good content is king – and that, when it comes to industrial communications, storytelling is a vital skill.





From everyone at EMG: have a Photogenic 2015... (click through to access the animated version)





Recovering from World Cup Mania

What began one month ago on 12 June has been a long, climactic journey, full of fun banter with friends and unpredictable outcomes, culminating on Sunday in the final match between Germany and Argentina.





It takes quite some preparation to make the most out of your trade show attendance. For one, the EMG team has been reaching out to editors for weeks to arrange stand visits and one-to-one interviews.





The plastics world has gathered once again in Düsseldorf. From 10 in the morning the halls are flooding with visitors, with the occiasonal stand builder still rushing to fix a display or couriers bringing the latest parts.





The use of social media has grown enormously; making the best use of these new media platforms will allow your business to be a leader and help keep you ahead of the competition.





Video impressions from EMG's Pre-K Multi-Client Press Event.





The first day of this year's Pre-K flew by! One highlight was the discussion at dinner between editors and industry leaders.





All signs are positive as the first day of Pre-K is underway with four companies presenting to 27 editors.





When Dutch TV station RTL asked us to highlight some of our services, we invited some of our clients to talk about communication and what matters to them. Play the video to see the result.





While others have started moving their attention to the upcoming Olympics a small iPad Ceremony took place in the EMG office in Bergen op Zoom.





Trade press use of social media

Today, social media are dominating discussions about communication and internet developments. What started as bulletin boards and people creating their own personal websites has now turned into a global communications phenomenon - with Facebook overtaking Google as the number 1 site in America.