Brigitta de Vries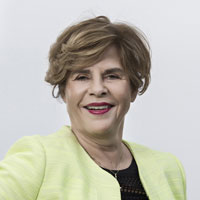 Brigitta de Vries ran her own marketing communication consultancy immediately prior to joining EMG. This followed a very successful period with GE, where she worked on a number of pan-European marketing communication programmes for various industry segments within GE Plastics and was also responsible for the set-up of GE Plastics' European Press Relations network. Her particular expertise in event organization and media relations campaigns translates into a consistent flow of value-added press and customer events and programmes for our clients. Additionally, she specialises in marketing strategy development, advising multi-national companies on marketing communications strategy & tactic formulation as a basis for fully integrated communications programmes. Her client assignments include pan-European and global programmes for multi-national companies based in mainland Europe, US and UK. Brigitta is Dutch, and fluent in English, French and German.


Tel +31 164 317 020
bdevries@emg-pr.com
Recent Posts
EMG's key strength is the development of messaging and content. Using our industry knowledge, integrated communications expertise, and international reach, we have been able to help hundreds of industrial clients to tell their stories and engage with their audiences in a compelling way.





Bringing Clarity to Guardian's museum campaign

When global glass manufacturer Guardian Glass decided to pursue the museum sector as an exciting new market for its Clarity™- anti-reflective glass, it was clear that they needed a different approach that would appeal to this specific audience.





Get help managing your trade-show workload

Preparing to exhibit at any trade show, much less one with the mammoth scale of the triennial K plastics fair, can be daunting. With so many moving parts, many companies seek support from trusted partners to help ensure they are as well prepared as possible. That's where, for many firms, EMG comes into play.





The fact that customer relations are built on humans dealing with humans is often neglected in the B2B world. Dieter Morath, Songwon's Executive Vice President Sales, sees embracing this as pivotal to growing a business – no matter what the industry.





Marking 20 years of effective business communication

EMG was established in 1991 - twenty years ago. At that time, many industrial companies were actively coordinating their pan-European communications activities - and were looking for an agency that could operate in a multi-lingual and multi-cultural environment. EMG was established to be that agency. Since those early days, EMG has come a long way.





What you say matters - how and where you say it matters even more. Since EMG was founded in 1991, we have worked with many leading industrial companies around the globe, providing a wide range of business communications services.