John Gallagher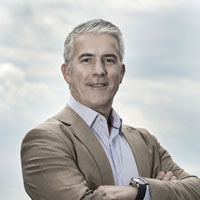 John Gallagher is an experienced international marketing communications professional with extensive experience of developing and implementing international campaigns for blue-chip clients across the full range of disciplines. He works with a wide range of clients, from some of the world's largest multinational corporations through to small, highly specialized manufacturers and distributors. John also plays a significant role in supporting the development of EMG's interests in China and acts as our global accounts co-ordinator ensuring consistent service delivery in this growing market. John is Irish and speaks English and German.


Tel +31 164 317 035
jgallagher@emg-pr.com
Recent Posts
WeChat, Chinaplas and all the rest...

Since I last wrote about WeChat a few years back, the platform has moved on in strides and encompasses all aspects of life and work in China today. WeChat is the norm for messaging, voice calls, sharing videos/images; it is used to hail taxis; book food, and make payments from high street stores, person to person transfers, and paying street vendors. Cash is no longer king here. I have heard rumours of street beggars handing over QR codes to receive money by WeChat. It is becoming hard to image back life without WeChat in China.





Our office in China will be closed February 15-21 as China celebrates its national New Year holiday, and welcomes in the Year of the Dog.





Chinaplas 2018 - bigger, better and more boisterous than ever

The countdown to this year's Chinaplas event is well on its way with only 12 weeks to go before the show opens its doors at the new - and world's largest expo centre- the NECC (National Exhibition and Convention Centre), close to Hongqiao airport.





EMG China has just completed a move to its new offices on the Puxi or west side of Shanghai, located in the new Futureland Building, in the vibrant and emerging business district of Putuo.





Coinciding with the upcoming Chinaplas show is the fifth Plasticity Forum annual conference which takes place in Shanghai on April 27-28.





Facebook, Twitter, Google and many others may be off-limits but China is still experiencing a vibrant social media phenomenon. With the world's largest number of internet users - the majority now through mobile devices - China has long had a flourishing indigenous social media scene. Many platforms most Westerners have never heard of have already come and gone, having ridden the wave of 100s-of-millions-plus users and then fallen into demise - like RenRen, Sina Weibo and many more.





This year is set to be a bumper year for the plastics and rubber industry with the world's two largest events taking place- Chinaplas in April, and then K-2016 in October in Dusseldorf.





Constant change is the new normal

Not so very long ago, the idiom of when America sneezes the rest of the world catches cold was often used. That has not completely changed of course, but these days the world looks eastward keeping a close, sometimes nervous eye, on how China's slowing economy is performing, wary of the implications this has for the world economy. Because now, when China sneezes maybe we all catch a cold?





Chinaplas thunders back to Guangzhou

Adsale, the show organisers, said the show has now outgrown the K fair in exhibitor count- claiming 3282 exhibitors from 40 countries, compared to 3215 at the last K in 2013. Some 400 of these are first time exhibitors, mainly from China and across Asia. Overall, Chinese firms account for around 60% of exhibitors. At the close of day one, we could not find any stats on the visitor count, which is expected to exceed last year's show in Shanghai, with over 75% coming from China.





Trelleborg's industrial tires operations goes full circle with EMG

EMG first began working with Trelleborg industrial tires operations, an operation within the Trelleborg Group, in 2013 in China. The operation, a leading manufacturer of tires for forklifts and heavy construction machines was at the early stages of building its brand profile in China.





Fasten your seatbelts - 2015 events calendar kicks off at breath-taking pace

Just as you thought the last of this year's exhibitions were done and dusted, many of you will already be thinking of the 2015 events schedule. The new year promises to kick off at breath-taking pace with three mega shows all taking place in the first half in vastly different locations. Our global capabilities, combined with local expertise and industry knowledge, enable us to work with our clients to take a broader perspective on how to maximise their presence and share of voice at shows within a coherent, integrated, programme structure.





10 years of success in China, continued growth, constant change

On November 20 we hosted our annual EMG Asiacom partner and client conference. The conference brought together keynote speakers and delegates from clients, agency partners and the media to present and debate on the theme of Communicating Value in a Rapidly Changing Market.





When it comes to running a successful business, most companies have no need for soothsayers and crystal balls. What they do need, however, is a clear view of current and future trends – because this may well influence management decisions today and drive success tomorrow.





EMG China moves office in Beijing, strengthens local team

EMG has moved its office location to the Third Estate Building in Beijing's downtown Central Business District (CBD). The Beijing team led by Eamon Pan, Senior Account Manager, completed the move in June this year just before the summer heat.





Brand Journalism: the way forward?

How many press releases are issued each day, each year? No one does the maths, but it runs easily into thousands per day, hundreds of thousands per month, and millions per year. Why? Because everyone thinks they have a story to tell, and believes their story is not only worth telling, but that people want to read it. This is simply not true.





We've got you covered at Chinaplas

As the 3rd most influential plastics exhibition in the world and Asia's No. 1 plastics trade fair, Chinaplas offers an excellent platform to deliver company messaging, raise your profile and initiate new business contacts.





Fulfilling our customers' Chinese Dream

The Economist recently published a piece (Chasing the Chinese Dream) which examines Communist Party leader Xi Jinping's vision for "the great revival of the Chinese nation", which he coined as "the Chinese Dream".





The EMG teams will be working at Chinaplas for the 9th consecutive year, supporting clients with press conferences, interview management and key message development.





Over 1300 companies converged on New Delhi in early February for the 2012 PlastIndia exhibition. India's leading plastics industry exhibition, and a growing force in the broader Asian exhibition calendar enjoyed its largest event yet.





EMG's activities in Asia continue to grow through its operations in China and Singapore. India is now too generating buzz with EMG's clients and set to become an increasingly important region in terms of investment and marketing for more and more companies.





Over 1300 companies will converge on New Delhi in early February for the 2012 PlastIndia exhibition. India's leading plastics industry exhibition, and a growing force in the broader Asian exhibition calendar is set for its largest event yet.





Hit the headlines at Chinaplas

Chinaplas 2011 will be held again in Guangzhou from 17-20 May. As the 3rd most influential plastics exhibition in the world and Asia's No. 1 plastics trade fair, Chinaplas offers an excellent platform to initiate new business contacts.





Eurocom Worldwide 10th annual conference

At its 10th annual conference in Prague, the global PR network announced that it had maintained its level of client activity and joint project execution with well over shared 200 projects recorded in the last calendar year, in spite of the general downturn in the market.





EMG's office in Beijing celebrated its 3rd anniversary in business with new team additions Yuki Zhang and Ida Li.