Nancy van Heesewijk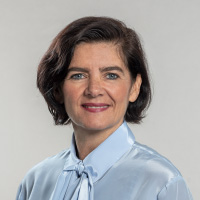 Nancy van Heesewijk has over 15 years' experience providing strategic consultancy to international companies. She has an extensive track record of developing and implementing pan-European and global communications programmes across a range of industrial sectors including materials, automation, intelligent building & factory technologies. Her expertise includes market research, customer insights and content marketing strategies.

Nancy is fluent in English, Dutch, Spanish, and German and holds a bachelor's degree in business management from HTI Louvain in Belgium and a BA in international marketing from Centro Vasco de Nuevos Professiones in Spain.


Tel +31 164 317 018
nvanheesewijk@emg-pr.com
Recent Posts
In communications, every mission is critical

We caught up with Director Global Outbound Marketing, Berry Medendorp at SPS IPC Drives in Nuremberg and asked him about the transformation process and the way customer communications and content management have to adapt.





Looking back at SPS IPC Drives 2017 we can say that we had a successful 10th year representing key clients at Europe's leading trade fair for electric automation. During those 10 years, we have seen the digital revolution, Industry 4.0, transform from vision to reality.





Mapping twists and turns in the digital customer journey

Customer journey mapping in a dispersed, digital landscape is now an ongoing process, not an annual event. The days of mapping customer journeys once a year (or every two years at a push) resulting in a final presentation are numbered.





Managing transition through timely and consistent M&A communications

Merger and acquisition (M&A) activity creates a challenging period for all parties concerned. In addition to the confidential, multifaceted, behind-the-scenes processes for each organisation, it's important to communicate with all stakeholders involved using clear, consistent content. A well-considered and well-timed approach can help to moderate the uncertainty that comes with change.





EMG client Jonathan Graham is passionate about sustainability and passionate about print. So much so, he chairs the Marketing Committee of NGO Sustainable Green Printing (SGP) Partnership.





Do you have an interesting story to tell, but not a lot of time to tell it? Are you weary of the same-old media event format, and looking for something fresher and more interesting?





Getting your message across with video

When Clariant recently held its very first Sustainability Dialog Day, the event represented a very bold move, bringing together various partners right across the value chain. It would be very difficult to capture the spirit of the day in words alone. So a video team was on hand to talk to participants and get their feedback.





Communication Fundamentals: On track or time to get back to basics?

I'm a communications junkie. LinkedIn Updates and eNewsletters feed my craving and my inbox is full - 10 rules of content marketing, essential skills for social media success, blogging nightmares to avoid, creating contagious content, thought leadership to drive business goals, storytelling that sticks and the list goes on.





Industry 4.0 and IIoT is gaining substance - bringing new editorial opportunities

Last year, we still questioned if Industry 4.0 was simply a trend or the new standard. Today, we are certain that the terminology and principles of Industry 4.0, which is also referred to as the Industrial Internet of Things (IIoT), are here to stay. In Automation & Control magazines, on websites and at events you will read and hear of the Industrial Internet of Things, Industry 4.0 and the Internet of Everything.





Pitch Perfect - Hitting the right note with the media

Having your story is only half the battle, once you have your press release or article on paper, the real work starts: from identifying relevant publications and websites, to getting in touch with key editors and writers, offering additional information, interviews and photographs. Some parts of the process can be automated – but most of it relies on personal relationships and follow-up. In this blog we look at the art of delivery and style when pitching to the media.





Industry 4.0 - Simply a trend or the new standard?

Recently Nancy van Heesewijk attended the Belden Industrial Ethernet Infrastructure Design Seminar. This event, which took place in Prague, brought together leading experts who provided insight into the latest Industrial Ethernet developments.





Trade press alive and well in the automation industry

With more than 40 automation trade magazines in Germany alone and a growing active global database, the majority of our communications activities in this segment continues to revolve around personal editor relationships, editorial calendars and interviews.





SPS/IPC/DRIVES is Europe's leading conference and exhibition for electric automation. This year's event will be held from 23 until 25 November 2010 in Nuremberg.





Broadcast your key messages